Services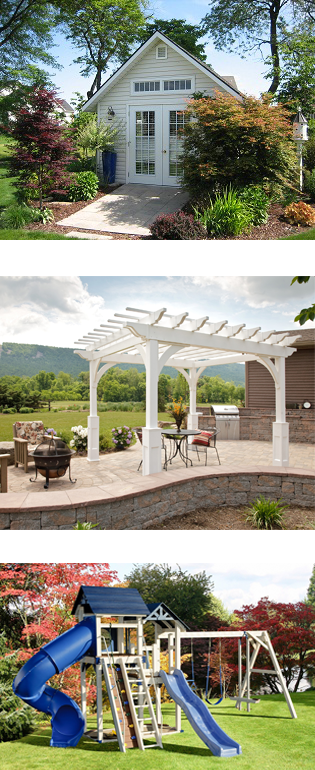 ON SITE CONSTRUCTION
Do you have a fence around the area where you would like your new shed placed? Is there limited access to your yard, so that our truck may not fit? No problem. We will schedule a date for our team of skilled builders to come to you! Most structures can be built on your property within a few hours.
DELIVERY & SHED REMOVAL
Our drivers specialize in shed delivery! We deliver your shed to your accessible, prepared, level site. With the know-how and equipment to professionally install your building, you can enjoy a stress-free delivery experience. We offer free delivery in Pennsylvania within 20 miles of our sales locations. Stock sheds can often be delivered within one week of purchase. Upgrading or just updating – many customers will want an existing shed removed before the new one is delivered. Notify your sales person when you visit our shed lot and we will have our experts contact you to coordinate the move or removal.
SITE PREPARATION
All of our sheds are constructed on pressure treated 4x4 runners. However, to prolong the life of your structure, we recommend that all structures be placed on a bed of level stone. This area should be one foot larger than the structure on all sides. It is also preferred that 2B or ¾" clean stone be used for adequate drainage.
Click here for instructions on how to prepare your own site. (link/popup) Don't want to prepare the area yourself? No Problem. Please ask a sales person for details and pricing on our site prep service!
WARRANTY
At the Amish Marketplace, we pride ourselves on offering unparalleled quality and service. To ensure that you are buying a product that will last, we include workmanship warranties on all of the Sheds, Garages, Gazebos, Pergolas, and Playsets that we build. Basic Sheds and Playsets are backed by our 2 year "floor to roof" warranty on all materials plus a 2 year workmanship warranty. Standard Sheds, Garages, Gazebos, and Pergolas include the same 2 year "floor to roof" warranty and add a 5 year workmanship warranty. Some building product warranties even extend beyond our warranty period...So be assured...Your product is built to last. Please consult your individual product warranty for complete details.
Read Our Warranty | File A Claim
SHED SUPPLIES
Do you have an older shed in need of repair? We have parts available to fix your shed. Call or stop in at one of locations and take a look of the different items available.